1 Comment
I've been working on a menu and decided to share it with you all.  If things like this interest you…if not, oh well, haha 🙂  I have been following Trim Healthy Mama since January and loving it!  The freedom from food bondage is incredible.  Never realized how much of an issue I had, and how this is really helping to heal some of that.  Of course, I'm still a work in progress, and I know those tendencies I have creep back in every once in a while, but I just have more joy about food in general now, and that's a good thing for sure!
On my weight loss progress, I started this journey at 181 pounds and have been plateauing at around the 168-171 range for a few months now.  I'm crazy happy about the pounds I've lost, but I'm nowhere near my goal yet.  So this past week I did what's called a Fuel Cycle (technically it's 2 weeks long, but I just did 1 week).  It is supposed to rev things back up if you find yourself stalling after a few months on the plan.  So basically, the first 3 days, you eat lots of Deep S meals (focus on the pure fats – coconut oil, butter, olive oil, salmon, eggs, non-starchy veggies, and keep your carbs to under 10 g each meal).  I thought this would be hard, but it was surprisingly not – I ate meals like baked salmon with lemon juice and coconut oil, mushrooms sauteed in butter, and asparagus; I had desserts like lemon curd and skinny chocolate.  Then the next 2 days, I ate FP (Fuel Pull) days, which basically means keeping the fat count to 5 or less and the carb count to 10 or less at each meal.  This is probably the hardest days of the week just because I had to eat a lot more little meals throughout the day to keep my energy up. But the actual food was still tasty!  Then the last 2 days, you eat only E meals (Energizing) and keep the fat count to 5 or less per meal.  So these meals looked like sweet potato black bean chili; overnight oatmeal with berries; Apple Cinnamon (a cut up apple mixed with a little stevia, cinnamon, and Greek yogurt); chicken, sweet potato, and sugar snaps; and 37 calorie brownies.   I lost about 4 pounds the first 3 days, then stayed the same the next 2 days, and then gained 1 pound the remaining 2 days.  So I've been holding at 164.4 the last 2 days.  Hopefully, I'll be able to keep losing.  But I'm trying to focus more on just enjoying the food and getting plenty of water and exercise also.  I think the weight will just gradually come off.
So, anyway, here is my meal plan I just wrote up…I'm sure it'll be tweaked along the way.   Oh, and I *can't wait* to share a new skinny chocolate recipe I came up with/tinkered with last night!  It's got HUGE promise/potential!! 🙂  (hope it's readable – click to see larger… oh, and yes, I do eat at strange times, haha, if you caught that..6am/9am/12noon/3pm/6or7pm)
I love that the weather is starting to get a bit chillier and that I can wear cardigans, sweatshirts, and boots again!  One of my favorite clothing lines is the Lauren Conrad line from Kohls.  I had seen this dress online, but it was more than I wanted to spend, plus some of the reviews weren't very favorable in the way it fit.  Then, it just so happened that an online friend of mine had this dress and was selling it!  So I bought it from her and crossed my fingers the size she had would fit.  Well, it's now one of my favorite dresses, and I think the colors work great as a dress to bridge the summer/fall season.
First worn with an off-white cardigan, which I think is okay, but when I later found a dusty orange cardigan, I liked that much better (the off-white cardigan is from Old Navy)  I find it so fun to see what works and how just changing the color of the cardigan pulled the outfit together more.
Details: Dress – Lauren Conrad; Peaches 'n Cream Soft-T from DYT; Cardigan thrifted (Ann Taylor); earrings DYT; necklaces Zulily; floral hair clips Forever21.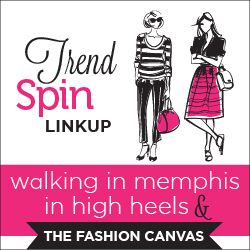 Hope you're all having a great week!  Come back tomorrow because I'll be having a giveaway (For what?  You'll have to come back to see! 😉 )