1 Comment
Since what I wore today I wore a few days ago, I thought I'd do a Sunday Style: Makeup Edition.
Details are included in the picture, so there's not much more to say.
What I'm wearing:
Jaime Top and Ruffle Cardigan: ModestPop // DownEastBasics: layering tee // Thrifted: Pencil skirt // kitten heel shoes (not really visible) // earrings: DYT // Necklace and Bracelet: Zulily
Linking up this Sunday Style to: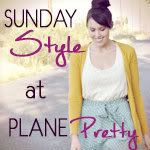 Coming up:
-A makeup review
-A main dish recipe
-My love affair with chocolate continues…
…and more!