14 Comments
It's been a while since I've taken part in Sunday Style, but I wanted to share about a new-to-me company, Sorella Bella.  I am not LDS, but I love clothes that are modest (yet fashionable), so I am happy to do a review of their shop.  They have a good selection – skirts, dresses, tops, outerwear, accessories, shoes, even vintage, and a nice selection of on sale items.  I was sent this Down East Basic skirt: Staggered Sweater Skirt
The ordering process was a breeze, and the skirt fits and is suuuuper comfortable.  If something catches your fancy, you can use the code Leafy for free shipping!
skirt: c/o Sorella Bella // undershirt: c/o Halftee // tank: Maurices // cardigan: Old Nay (thrifted) // earrings: DYT // necklace: Walmart
For the hair, I just tied bows (though with all curls and layers, the "bow" part sort of got lost). I literally tied 3 bows in my hair. First – take about a third of the hair from both sides (like you're doing a half-up style) and proceed to tie a bow – just like you're tying your shoes. Then do the same with the second third of hair from each side, and finally the last third from each side. Secure with bobby pins if needed.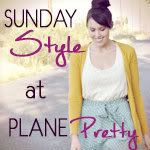 They have a lot of really cute stuff.  Here are a few of my favorites:
And I have a few nail polish-y things to share today:
Zoya's spring collection has been released… and I happened to take this little picture this morning of them sitting pretty on my vanity top.  So that's just a sneak peak of an upcoming post this week.
Also Zoya related – they are doing their 3 FREE polish again – you do have to pay shipping ($10) and there are a few exceptions (like the new spring collection and a few others).  You add the polish you want to your cart and then use code ZOYA2013 at checkout.  Valid 1/07 10 a.m. EST- 1/13 11:59 p.m. EST.
And finally, perhaps you've heard of Julep nail polish?  Well, if you haven't or have never tried them – here's a way to get the Intro box for $0.01 (Yes, you read that right).  You have to pay shipping of $3.95, but you get 2 to 3 polishes that retail for $14 each.  How do you do it?  Well, use THIS link to sign up.  Then take the little quiz to find out what your style is, pick what box you want, and enter the code PENNY at checkout to take it from $19.99 down to $0.01.  Pretty cool!  It is a monthly box service, so if nail polish isn't your thing or you're not up for spending $20 a month for it, you can still do the intro box, but just be sure to cancel (a simple phone call), or else you can gift or skip each month (they email to remind you).
In my intro box, I got a vitamin E oil roll on and 2 glitter pots (not pictured).  The nail polishes I got were Toni and Michelle.  I also have Chelsea.
I can't wait to show you what I spent my afternoon doing!  But for now, I'm off the computer to watch Biggest Loser!
*Sorella Bella sent me product for review purposes.  All opinions are my own honest opinions.